Choosing a small CNC plasma table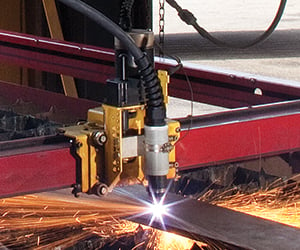 If you are in the market for a small plasma CNC table for metal cutting, you likely know the search for the best CNC plasma table can be daunting as there are so many choices and pieces to fit together. Fortunately, it doesn't have to be difficult. If you keep a few things in mind, you will be well on the way to choosing the best CNC plasma table and cutting system for your specific situation.
How small is small?
Let's start with what we mean by small CNC plasma table. A small plasma table for metal cutting will range from 2′x2′ to 5′x10′, use an air plasma cutting system (as opposed to high-definition plasma cutting system) to cut, and a standard office computer as the CNC control. On average, you should expect to spend between $10,000 and $25,000 for one of these metal cutting tables, though they can be had for slightly less and more than that.
2′x2′, 4′x4′, 4′x8′, or 5′x10′ CNC plasma?
Deciding between the different sizes – typically 2′x2′, 4′x4′, 4′x8′, or 5′x10′ – will obviously depend on how you plan to use your plasma CNC table. Generally tables on the smaller end of this scale (the 2′x2′ and 4′x4′ CNC plasma table) are ideal for home hobbyists, craftsmen, and garage fabricators. Small businesses who plan to regularly use their metal cutting table to produce parts will normally want to choose a CNC plasma table on the larger end of this scale, so a 4′x8′ CNC plasma table or a 5′x10′ table.
No matter the size or cost, all tables need the following five components:
CNC plasma table and mechanical components – This includes a gantry, torch carriage, and z-axis to move the torches.
CNC – The brains of your table, a CNC will convert your cutting program into instructions that control cutting direction and speed, along with your plasma system, height controller, and peripheral equipment.
Fume control – Controlling fumes and smoke is absolutely necessary! To do so, you have two choices: a downdraft system or water tray.

Read more about fume control

Small CNC plasma cutter – When it comes to selecting a plasma cutter for a plasma CNC table, there's only one name – Hypertherm's Powermax® brand.

See our guide to choosing an air plasma

Torch height control(THC) – Some low-cost CNC plasma cutting tables are sold without a THC to reduce the purchase price; however, in our opinion a THC is critical. It will dramatically improve cut quality along with torch and consumable life, saving you money in the long run.
Plasma cutting table manufacturers typically offer training, technical support, and aftersales support. As you consider a CNC machine purchase, make sure that the post-purchase service levels meet your requirements.
Watch these videos to learn more about light industrial table cutting