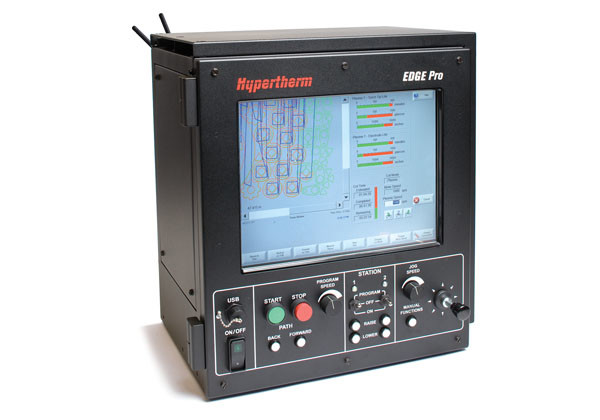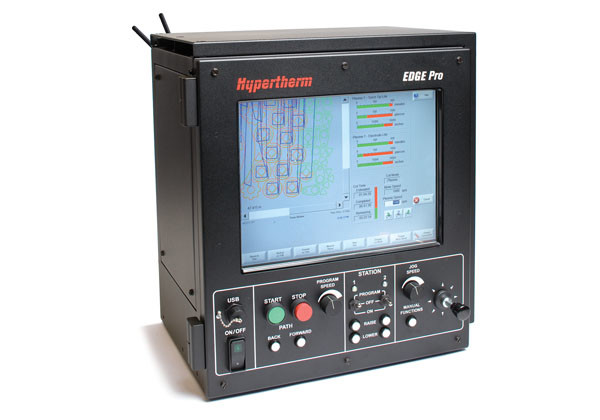 EDGE Pro CNC system
EDGE® Pro is a highly versatile, easy-to-use Computer Numeric Control (CNC) that allows the operator to make the optimal cut, every time. Based on Hypertherm's industry-leading Phoenix® CNC platform, the system combines advanced cutting capability with an intuitive graphical interface, and supports laser, plasma, waterjet, and oxyfuel applications.

EDGE Pro is designed specifically to improve ease of use, productivity and profitability for the X-Y and bevel cutting market. It offers multiple interfaces – three analog choices and one SERCOS version – that allow table manufacturers to configure the CNC to match virtually any table design.
System information
Benefits
SureCut™ Technology
SureCut Technology includes all the embedded expertise within Hypertherm CAM/CNC products. These products deliver optimum cutting performance, across multiple cutting technologies with limited operator intervention.

---
Simple, reliable operation
Using CutPro™ Wizard, even new operators can be ready to cut production parts in less than 5 minutes
Built-in, two-station operator's console includes intuitive graphical display, tactile joystick, speedpot, and torch position control for efficient, simple operation
One-touch access to Wizards, help and cutting tips enables easy setup and use, and improves table performance and process outcomes
Network and USB access streamlines part program loading and software updates
---
Peak performance and versatility
Built-in cut charts let operators automatically set process parameters for mild steel, stainless, and aluminum to ensure consistent, optimized cutting performance
Supports high definition, conventional, duct cutting, single- or dual-bevel, tube/pipe and marking applications
Integrated communication to plasma and torch height control systems ensures automated and expert control of the cutting process
Watch Windows™ enable on-screen real-time monitoring of key process performance parameters during cutting
Software supports True Hole® Technology for HPRXD® applications
---
Maximum uptime
Integral diagnostic tools speed up and simplify troubleshooting
Remote Help™ function allows online troubleshooting – and often, repair – to get you back up and running without costly downtime
---
Specifications
Flexible configurations
| Interface options | HyPath analog | SERCOS II & III digital | Picopath analog |
| --- | --- | --- | --- |
| Axis count | 2 - 6 | 2 - 12 | 2 - 4 |
| Inputs / Outputs | 24 or 48 positive logic inputs and 24 or 48 relay outputs | 512 digital inputs and 512 digital outputs | 12 negative logic inputs and 12 negative logic outputs |
| Sensor THC Interface | 0 - 2 | 0 - 8 | 0 - 2 |
| ArcGlide Interface | 0 - 4 via Hypernet | 0 - 4 via Hypernet | 0 - 4 via Hypernet |
| Wireless networking | Standard | Standard | Standard |
Standard features
| | |
| --- | --- |
| Operating system | Windows® XPe |
| Hard drive | SATA drive |
| Display | 15" glass touchscreen (surface acoustic wave technology) |
| Memory | ≥1GB |
| USB interface | Two USB 2.0 ports |
| Dimensions | 435 mm (17.125") W; 463 mm (18.22") H; 316 mm (12.43") D |
| Temperature range | -10° C to 40° C ambient (14° F to 104° F ambient) |
| Warranty | Two -year warranty standard |
| Regulatory compliance | CE, CSA |
| Operator's console | Two-station Opcon standard |
| Operating voltage and frequency | 100 – 240 V, 50/60 Hz |
| Software utilities | Part Program Support (PPS), Remote Help, networking, Autogas support, DXF import, and simple shape nesting |