About
Available in a specific range of hardware configurations that deliver advanced capabilities, Hypertherm's EDGE® Pro Ti Computer Numeric Control (CNC) is designed to be used with small to mid-sized automated cutting machines. The versatile, easy-to-use system supports plasma, waterjet, oxyfuel and marking applications. Like all of our CNCs, it is based on the Phoenix® software platform.
Built-in drive amplifiers provide 1000 watts of total capability, with a maximum of 500 watts per axis; optional motors, lifter mechanics, and multiple length cables are available for ease of installation and setup. The system can be retrofitted to existing CNCs, often increasing functionality while delivering substantial gains in productivity, ease of use, and reliability.
| | |
| --- | --- |
| Type | CNCs |
| Product line | EDGE |
| Material type | Mild steel, stainless steel, aluminum, other |
| Applications | |
SureCut™ Technology
SureCut Technology includes all the embedded expertise within Hypertherm CAM/CNC products. These products deliver optimum cutting performance, across multiple cutting technologies with limited operator intervention.

---
Simple, reliable operation
Using CutPro™ Wizard, even new operators can be ready to cut production parts in less than 5 minutes
One-touch access to Wizards, help and cutting tips enables easy setup and use, and improves table performance and process outcomes
Hypertherm plasma, CNC, and THC manuals are available in multiple languages at the touch of a button. Machine specific user manuals can be added for easy access to critical information
Built in servo drives with optional motors and cables, all factory tested to Hypertherm rigorous standards
Drives rated up to 500W maximum per axis and 1000W system total
---
Peak performance and versatility
Built-in cut charts let operators automatically set process parameters for mild steel, stainless, and aluminum to enable consistent, optimized cutting performance
Configurable Watch Windows™ enable on-screen realtime monitoring of key process performance parameters while cutting
True Hole® technology with process verification ensures all operator variables are properly set*
Rapid Part™ technology for maximum productivity
Optional Integrated Sensor Ti THC with sample arc voltage feature for optimal consumable life
* Requires ArcGlide height control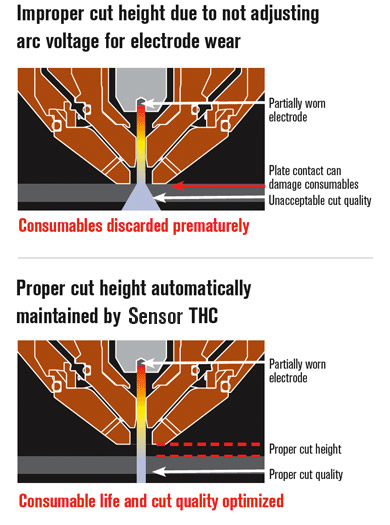 ---
Maximum uptime
Integral diagnostic tools speed up and simplify troubleshooting
Remote Help™ function allows online troubleshooting – and often, repair – to get you back up and running without costly downtime
---
Optional torch height controls to support your cutting needs
Traditional torch height controls require operators to periodically adjust arc voltage to ensure proper cut height. Using Hypertherm's proprietary techniques, both the Sensor™ Ti and the ArcGlide® THCs continuously sample arc voltage and automatically adjust arc voltage for proper torch height over the life of the consumables without requiring operator input. THC features include:
Minimal operator input
Sample arc voltage
Rapid Part™ technology
Programmable transfer, pierce, and cut height
Automated IHS using ohmic contact or stall force
Part Program Support (PPS)
Torch breakaway options including collision detection
Built in diagnostics
Robust mechanics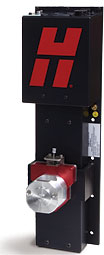 ---
| | |
| --- | --- |
| Operating system | Windows® XPe |
| Hard drive | SATA drive |
| Display | 15" glass touchscreen (surface acoustic wave technology) |
| Memory | ≥1GB |
| Communications / Ports | Wireless Networking, LAN, Hypernet, Two USB and RS-232/422 serial ports |
| Dimensions | 435 mm (17.13") W; 490.9 mm (19.33") H; 377.2 mm (14.85") D |
| Temperature range | -10° C to 40° C ambient (14° F to 104° F ambient) |
| Warranty | Two-year |
| Regulatory compliance | CE, CSA, GOST-R |
| Operator's console | Two-station including joystick and two speedpots |
| Operating voltage and frequency | 100 – 240V, 50/60 Hz, 10.0 A at 100 VAC/4.1 A at 240 VAC |
| Software utilities | Part Program Support (PPS), Remote Help, networking, Autogas support, DXF import, and simple shape nesting |
| Axis count | 2 – 4 |
| Inputs/Outputs | 12 /12 |
| Options | Sensor Ti lifter, interface diagnostic kit, axes servo motors and cables |
Information subject to change without notice.
Plasma torch height control options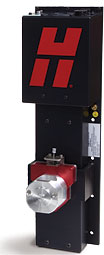 Integrated Sensor Ti torch height control
Designed specifically for the EDGE Pro Ti CNC, the Sensor Ti torch height control provides superior operation for the single station conventional plasma system using an integrated drive motor and Sensor THC technology embedded into the Phoenix CNC software. A 4.5 kg (10 lb) magnetic breakaway is included as standard.
Stroke length: 152 mm (6")
Max Speed: 10160 mm/min. (400 ipm)
Designed for conventional plasma systems
Rapid Part technology
For more information on Sensor torch height control options and benefits go to the Sensor THC product page.
ArcGlide torch height control
The ArcGlide torch height control can be used on any CNC and is designed for single or multi-station conventional and HyPerformance plasma systems providing the user with optimal cut quality, performance and productivity. ArcGlide THC supports Hypernet communication for high ease of use and enables True Hole technology on EDGE Pro Ti. Multiple breakaway options are also available.
Stroke length: 244 mm (9.6")
Max Speed: 15240 mm/min. (600 ipm)
ArcGlide THC connectivity via Hypernet® communication for easy setup and operation
Enables True Hole technology
Designed for high definition plasma
Multiple height control connectivity
Rapid Part technology
Learn more about the ArcGlide torch height control
No reviews yet
Be the first to review the product.