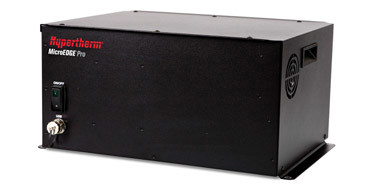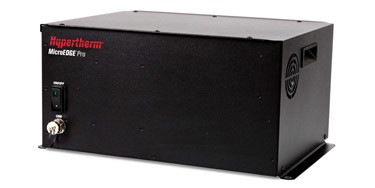 MicroEDGE Pro CNC system
MicroEDGE® Pro is Hypertherm's most versatile and customizable Computer Numeric Control (CNC). The powerful, scalable hardware/software package shares the industry-leading Phoenix® software platform with other Hypertherm CNCs, while providing a unique combination of configurations and expandable features. Available in analog and SERCOS™ versions, it gives OEMs the ability to standardize on a control solution without compromising application range.
MicroEDGE Pro is ruggedly designed for industrial cutting environments. It supports laser, plasma, waterjet and oxyfuel applications, and can be installed with a custom operator interface.
System information
Benefits
SureCut™ Technology
SureCut Technology includes all the embedded expertise within Hypertherm CAM/CNC products. These products deliver optimum cutting performance, across multiple cutting technologies with limited operator intervention.

---
Fully customizable
Flexible CNC approach accommodates cutting machine design options to meet the needs of today's complex systems
Hardware and software supports a wide range of processes – oxyfuel, laser, waterjet, and plasma cutting, including tube/pipe, bevel cutting, and marking applications
Cutting machine user manuals can be easily added, to give operators ready access to critical information
---
Superior performance
Integrated communication with plasma and torch height control systems delivers automated, expert control using installed factory or custom cut charts
Critical plasma, THC and cutting machine parameters can be controlled in the part program for optimal, repeatable cut quality
With CutPro™ Wizard, even new operators can be ready to cut production parts in less than 5 minutes
True Hole® technology-enabled performance with process verification ensures all operator variables are properly set
ArcGlide® THC connectivity via Hypernet® communication allows easy setup and operation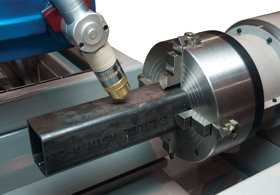 ---
Maximum reliability and uptime
Configurable Watch Windows™ enable on-screen real-time monitoring of key process parameters
Integral diagnostic tools and hardware service kit speed up and simplify troubleshooting
LAN/Wireless network and USB access streamlines part program loading and software updates
Remote Help function allows online troubleshooting – and often, repair – to get you back up and running without costly downtime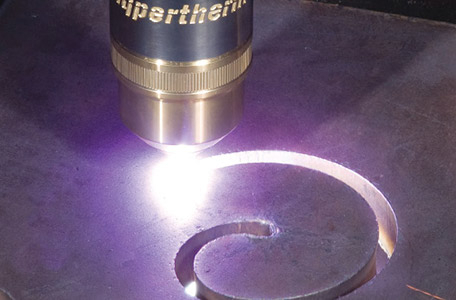 ---
Specifications
Flexible configurations
The MicroEDGE Pro offers multiple back-door interfaces for cutting machine manufacturer integration or field upgrades for existing cutting machines. CNC size, connector layout and mounting is consistent with earlier models to allow the manufacturer to configure the CNC to match the cutting machine design and functionality.
| Interface options | HyPath analog | SERCOS II & III digital | Picopath analog |
| --- | --- | --- | --- |
| Axis count | 2 - 4 | 2 - 12 | 2 - 4 |
| Inputs / Outputs | 24 positive logic inputs and 24 relay outputs | 512 digital inputs and 512 digital outputs | 12 negative logic inputs and 12 negative logic outputs |
| Sensor THC Interface | 0 - 2 | 0 - 8 | 0 - 2 |
| ArcGlide Interface | 0 - 4 via Hypernet | 0 - 4 via Hypernet | 0 - 4 via Hypernet |
| Wireless networking | Standard | Standard | Optional |
Standard features
| | |
| --- | --- |
| Application Software | Phoenix shape cutting control software |
| Operating system | Windows® XPe |
| Display and keyboard | Customer supplied - touchscreen and standard LCD supported |
| Communication ports | Ethernet LAN, Hypernet, USB and RS-232/422/485 isolated serial |
| Dimensions | 239 mm (9.4") high x 465 mm (18.3") wide x 335 mm (13.2") deep |
| Temperature range | -10° C to 40° C ambient (14° F to 104° F ambient) |
| Warranty | Two -year warranty |
| Regulatory compliance | CE, CSA, GOST-R |
| Operating voltage and frequency | 100 – 240 V, 50/60 Hz |
| Software utilities | Part Program Support (PPS), Remote Help, networking, Autogas support, DXF import, and simple shape nesting |