Operator and instruction manuals (4)
Showing 4 of 4 documents
Showing 43 of 4 documents
Application notes (3)
Showing 3 of 3 documents
Showing 33 of 3 documents
Specifications
For full specifications, reference the manual.
| | |
| --- | --- |
| Operating system | Windows® XPe |
| Hard drive | SATA drive |
| Display | 15" glass touchscreen (surface acoustic wave technology) |
| Memory | ≥1GB |
| Communications / Ports | Wireless Networking, LAN, Hypernet, Two USB and RS-232/422 serial ports |
| Dimensions | 435 mm (17.13") W; 490.9 mm (19.33") H; 377.2 mm (14.85") D |
| Temperature range | -10° C to 40° C ambient (14° F to 104° F ambient) |
| Warranty | Two-year |
| Regulatory compliance | CE, CSA, GOST-R |
| Operator's console | Two-station including joystick and two speedpots |
| Operating voltage and frequency | 100 – 240V, 50/60 Hz, 10.0 A at 100 VAC/4.1 A at 240 VAC |
| Software utilities | Part Program Support (PPS), Remote Help, networking, Autogas support, DXF import, and simple shape nesting |
| Axis count | 2 – 4 |
| Inputs/Outputs | 12 /12 |
| Options | Sensor Ti lifter, interface diagnostic kit, axes servo motors and cables |
Information subject to change without notice.
Plasma torch height control options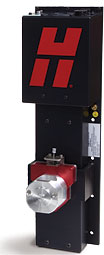 Integrated Sensor Ti torch height control
Designed specifically for the EDGE Pro Ti CNC, the Sensor Ti torch height control provides superior operation for the single station conventional plasma system using an integrated drive motor and Sensor THC technology embedded into the Phoenix CNC software. A 4.5 kg (10 lb) magnetic breakaway is included as standard.
Stroke length: 152 mm (6")
Max Speed: 10160 mm/min. (400 ipm)
Designed for conventional plasma systems
Rapid Part technology
For more information on Sensor torch height control options and benefits go to the Sensor THC product page.
ArcGlide torch height control
The ArcGlide torch height control can be used on any CNC and is designed for single or multi-station conventional and HyPerformance plasma systems providing the user with optimal cut quality, performance and productivity. ArcGlide THC supports Hypernet communication for high ease of use and enables True Hole technology on EDGE Pro Ti. Multiple breakaway options are also available.
Stroke length: 244 mm (9.6")
Max Speed: 15240 mm/min. (600 ipm)
ArcGlide THC connectivity via Hypernet® communication for easy setup and operation
Enables True Hole technology
Designed for high definition plasma
Multiple height control connectivity
Rapid Part technology
Learn more about the ArcGlide torch height control
Upgrades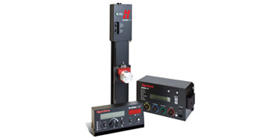 Proprietary THC automatically adjusts arc voltage for proper torch height to improve performance and profitability in plasma cutting applications.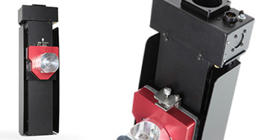 Full-featured torch height control system that can significantly increase the productivity and profitability of your shape cutting operation.
Field service bulletins (4)
Showing 4 of 4 documents
Showing 43 of 4 documents