A city monument is kept on track with Powermax plasma.
By
Driving toward the city of St. Thomas, in Ontario's southwest corner, you can't miss a jaw dropping sight: a 25-ton train with a steam locomotive that pulls a coal car, passenger car, and caboose.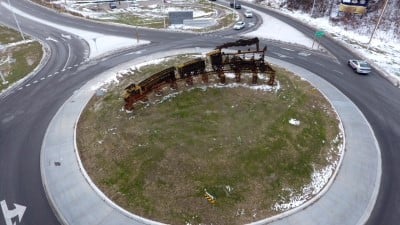 It is called Perseverance, a 69-foot-long, 20-foot-tall symbol of the past. Located inside a roundabout at the city's gateway, it's a fitting tribute to a place long known as Railway City because of the number of trains which once passed through.
Artist Scott McKay of Strong Arm Forge created it using 140 sheets of ACR (atmospheric corrosion resistant) steel, all cut with a Hypertherm Powermax65, purchased from Praxair.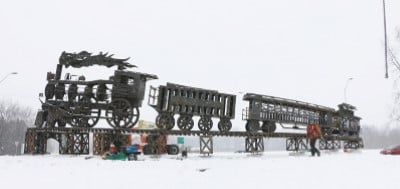 McKay upgraded from a Powermax45, which he'd owned for four years, specifically for this project, "I was given the opportunity to work on the rail monument and the Powermax45 could have done the job, but the Powermax65 can cut more plate in a shorter amount of time."
In addition, McKay owns a Powermax30 AIR which he loves for its portability, "I use the Powermax30 AIR mostly for cutting up skeletons, but the main reason I purchased the Powermax30 AIR was for the portability. I can take it to jobs and work onsite with the internal compressor."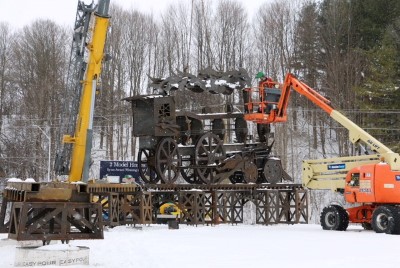 He's impressed by how far plasma technology has come and the amount of power generated by the Powermax30 AIR, "I worked as a millwright at one point. The company that I worked for had a Hypertherm plasma system that was the size of a small car and had the same power as my Powermax30 AIR."
All said, McKay is happy with his Hypertherm systems, "I've used Hypertherm at other factories. I've never had issues and always been happy with the performance. I never even looked at any other brand of plasma when I purchased the Powermax65."
Learn more about Hypertherm's Powermax line and see more of Scott McKay's work.