Hypertherm DynaMAX (HyPrecision): 60,000 psi versus 90,000 psi
Measuring pumps in productivity, not psi
Posted on
01/05/2016
Posted by
Which pump is right for you?
The facts prove that 60,000 psi waterjets can cut faster than 90,000 psi waterjets. However, we understand that there are unique applications that require 90,000 psi. To learn which ones those are, talk to your Hypertherm expert. We'll work with you to evaluate the materials you are cutting and determine which waterjet option works best for your application.
Buying the waterjet with the highest pressure might not be the right solution. The cost of owning a 90,000 psi waterjet is significantly more expensive than owning a 60,000 psi waterjet. Further, depending on the material you are cutting, a 90,000 psi waterjet can cost substantially more per inch and per cut than a 60,000 psi waterjet.
Don't end up with too little or too much when it comes to your waterjet. Get the right waterjet for your application by talking to your Hypertherm experts.
Comparison of 90,000 psi vs. 60,000 psi
Models

Leading competitor
60hp, 90,000 psi
Hypertherm DynaMAX™
60hp, 60,000 psi
Material
Aluminum
Aluminum
Thickness
2.00 in. (50.8 mm)
2.00 in. (50.8 mm)
Feedrate
2.6 ipm (66 mm/min)
2.6 ipm (66 mm/min)
Total cut length
13.7 in. (348 mm)
13.7 in. (348 mm)
Cost per minute
$4.72
$3.83
Cost per inch >
$1.81
$1.47
Cost of cut
$24.85
$20.16
Cummulative cost of ownership 60,000 psi vs. 90,000 psi (includes abrasive cost)
Hypertherm vs. leading competitor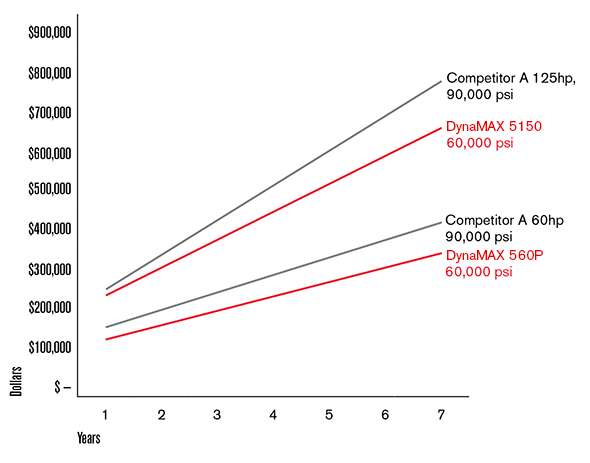 Posted on
01/05/2016
Posted by