Careers CLiC
Posted on
11/13/2019
Posted by
Careers CLiC, formally known as Upper Valley Business and Education Partnership, was founded in 1996 with Federal seed money through the School to Work Opportunities Act. Over the past 23 years Careers CLiC has implemented programming to foster the relationship between schools and employers. In this time, over 18,000 students and 600 educators from 160 schools have benefited from their programming.
How does Careers CLiC serve our community?
Careers CLiC's mission is to guide students through the continuum of career development by engaging in a mutually beneficial relationship with schools and employees in New Hampshire and Vermont communities. Programming is segmented into the following focus areas:
Grades K-5: Career awareness through Junior Achievement® programming. This program allows students to gain a foundation of financial literacy skills and learn from guest speakers about basic economics and entrepreneurship.
Grades 6-8: Career exploration through Job Shadow Day and guided career exploration activities. Job Shadow Day allows eighth grade students to engage with local employers. These students gain insights into numerous types of careers and work culture.
Grades 9-12: Career preparedness through the TIPS, Training Interns and Partnering for Success, program. Students are guided to select coursework that expands their career opportunities. The TIPS program allows students to practice what they have learned in school in a structured work environment through internships.
How has the HOPE Foundation contributed to Careers CLiC?
Since 2010 the HOPE Foundation has supported the programming and strategic growth of Careers CLiC through grant allocations. In addition to funding support, Hypertherm has a strong volunteering partnership with Careers CLiC for both Job Shadow Day and Junior Achievement®. Annually, Hypertherm hosts Job Shadow Day through collaboration with middle schools and Careers CLiC. Associates share their work experience and career path with a student that has shown an interest in a similar career. In return, the student gains a hands-on experience in our manufacturing environment. Hypertherm Associates also choose to utilize their Community Service Time educating elementary students on fiscal literacy and entrepreneurship through the delivery of Junior Achievement programming.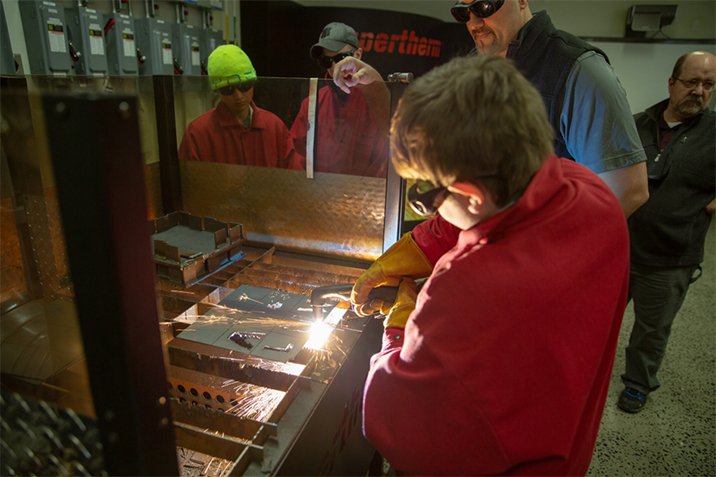 Cutting demo during Job Shadow Day at Hypertherm
What are Hypertherm Associates saying about volunteering for Careers CLiC?
"The Junior Achievement Program is a wonderful way to give back to the community by providing our youth, the future of tomorrow, with thought-provoking lessons that help guide them to becoming the better versions of themselves. Whether it's teaching them how to be a caring, productive member of the community, to delving into their creative minds to inspire them to pursue a career in STEAM, to helping them manage their money to avoid adding to the overall current debt, the lessons learned push these students and inspire them to think outside the box. We need more volunteers to teach these crucial lessons and to share their personal experiences with these kids if we want to create a better future."
Dan Naranjo, Tax Compliance Accountant and Junior Achievement volunteer, Hypertherm
"The kids are hesitant at first, but as you share your past and decisions they open-up and ask questions. The reward of those questions brings me back to sitting in that chair, and I feel I can share a window into the future for them. A window I wished I could have had."
Ross Smith, Design Engineer and Job Shadow volunteer, Hypertherm
Want to know more?
For more information about Careers CLiC, the work they do and how you can become involved, please go to Careers CLiC website.
Posted on
11/13/2019
Posted by