Machine operator training

The Hypertherm Technical Training Institute trains today's – and tomorrow's – skilled workforce.
Our Machine Operators are hired through completion of a nine-week CNC Fundamentals program at our Hypertherm Technical Training Institute in Lebanon, New Hampshire. The training combines both classroom and laboratory time, and requires no previous experience.
The goal of our machine operator program is to train you to be a skilled computer numerical controlled (CNC) machine operator. In less than a year, you will have acquired the knowledge and job skills necessary to be successful at machining our consumables to the tight tolerances demanded by our high quality standards.
As a machine operator at Hypertherm you will:
Operate cutting-edge CNC machines
Verify the quality of your product using state of the art inspection equipment
Follow well-documented processes
Participate in continuous improvement events and activities
Assemble and package products to be delivered to our customers
Machine operator selection
Each year, depending on our business conditions, we hire several classes of new machine operators. It is a very competitive and popular program, and we use a rigorous selection process to decide on each class roster.
Career Fair
Our machine operator career fair kicks off each of our class selections and is designed to give you the opportunity to explore a career in CNC machine operation. It lets us share insights about the machining industry, our training program, and what it means to be a Hypertherm Associate. You'll visit our machining lab, and have a math assessment and a quick interview with one of our frontline production leaders. Other than a desire to learn and succeed, no prior skills are required. In fact, we always try to find a blend of candidates with prior CNC experience and those who are new to the field – so anyone who is interested is welcome!
Interview/Assessment
In the second phase of the selection process, you'll have a more in-depth interview with our production leaders, in which we'll look to get a better understanding of how you solve problems, how you work within a team, deal with conflict, etc. You'll also take an online assessment specifically calibrated for Hypertherm's machine operator selection.
Classroom Simulation
In this last phase, you'll spend time with the instructors to simulate a typical classroom environment. This experience also has a testing component that will help us assess your ability to successfully complete the training program.
Offers
Factoring in all of the data points collected during the three selection phases, we will make offers to the final candidates. We use a systematic approach in our interview process where we consider your technical acuity, ability to learn, prior work history, and fit to Hypertherm.
So, what do you need to be successful in this program and at Hypertherm?
A positive attitude and willingness and interest to learn technical material
Excitement about working with a team and within our collaborative ownership culture
Critical thinking and problem-solving skills
The ability to follow and process instructions
Hypertherm embraces diversity and is committed to providing equal opportunity to employees and applicants. This program is a partnership between Hypertherm and River Valley Community College, through a five million dollar funded H1B Technical Skills Training grant from the Department of Labor, Employment, and Training Administration. This is an Equal Employment Opportunity Program; auxiliary aids and services are available upon request to individuals with disabilities. If you are unable or limited in your ability to complete the application process, you can request reasonable accommodations. We will be happy to assist you.
Does this sounds like you?
To learn more about this program and be notified about upcoming machine operator career fairs, email us your contact information.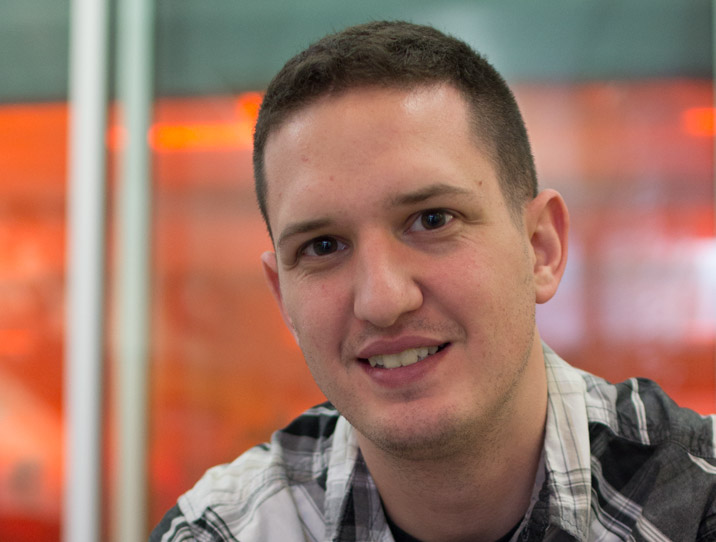 Robert
Machine Operator II
"Going to the Hypertherm Career Fair was one of the best decisions I have ever made. I may be biased, but it is an absolutely amazing company to work for. As far as being a machine operator, you won't find a better combination of salary, benefits and culture. No machining experience required; if selected for the open positions, you will receive all of the training you need while getting paid full time! I strongly encourage anyone looking for a machine operator position with a reliable company to apply."