Have you seen what today's plasma can do?
X-Definition® plasma, available exclusively from Hypertherm, represents a significant advance in industrial cutting technology. When used on a cutting machine capable of high-quality motion, X-Definition delivers exceptional cut quality and performance on mild steel, stainless steel, and aluminum. Precise cuts at fast speeds reduce secondary operations and streamline your manufacturing processes, which in turn reduces costs and increases production.

Accuracy
Precise cuts deliver tolerances that meet the needs of many industrial applications and produce beveling accuracy with tighter, more predictable seams, reducing the use of filler metal and facilitating automated welding processes.

Cost reduction
Consistent results across the life of the consumables deliver low part to part variability over a range of metal types and thicknesses, reducing scrap and finished part costs.

Streamlined process
Faster cut speeds and automated applications such as True Hole® and True Bevel™ increase throughput for a more streamlined manufacturing process and the reduction of non-value-added secondary operations.
With X-Definition plasma on a high-quality cutting machine you can expect:
Improved overall performance of your cutting operation
Greater accuracy and consistency in your parts, facilitating downstream operations
Reduced scrap and lower finished parts costs
Are you ready to see what X-Definition plasma can do for you?
Is plasma the right technology for me? Plasma provides an optimal mix of cut quality, productivity and operating cost for mild steel, stainless steel, and aluminum across a wide range of thicknesses at a competitive capital equipment price. The comparison chart below refers to cutting mild steel.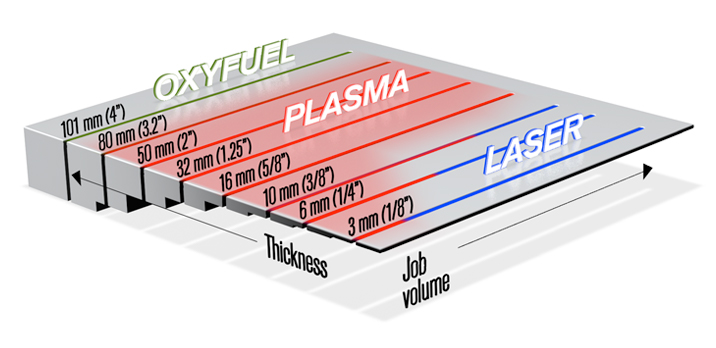 Here are some factors to consider when talking to cutting machine manufacturers about the motion capabilities:
X and Y motion accuracy and velocity control while cutting
The ability to execute a circular tool path at cutting speeds
Smooth and responsive acceleration