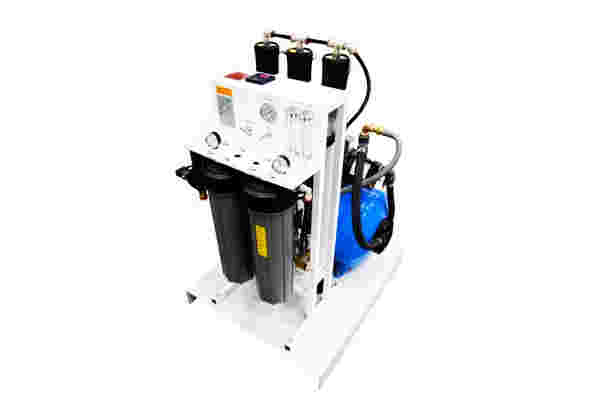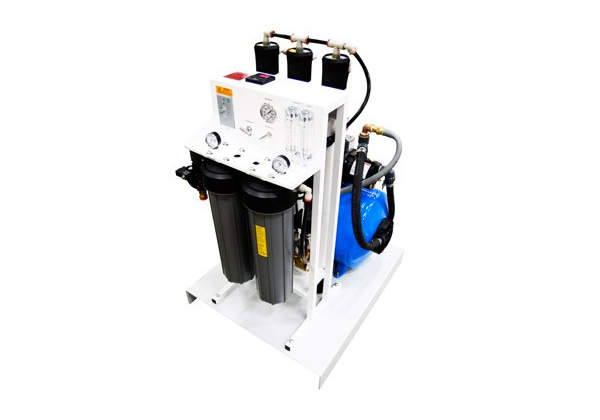 Water treatment - reverse osmosis system
Water quality is critical factor in the operation of your waterjet cutting system. the Hypertherm Accustream® AS/RO Reverse Osmosis System extends component life and lowers operating costs by delivering purified, pressurized water directly to the pump.
Designed specifically for waterjet operation, the compact, free standing skid includes built-in prefiltration and provides up to 2,000 gallons of water per day to support pumps up to 75 HP. It offers superior performance, high water recovery rates and low energy consumption – allowing you to experience additional savings through lower maintenance and operation costs.
System information
Benefits
Maximizes uptime
Extends component life by removing water-borne particles that act like abrasives and cause premature wear on everything the water touches
Eliminates contamination from water that can damage your orifice and cause costly downtime
---
System features
Includes all the necessary parts and connections to seamlessly connect your treated water to your waterjet pump
Onboard boost pump and accumulator, together with the atmospheric tank, provide a readily available source of on-demand RO water directly to your system
63% recovery rate minimizes water consumption
Digital Total Dissolved Solids (TDS) meter lets you see the quality of the water being produced; in-line blending valve allows you to instantly adjust the water to the optimum setting
---
Specifications
AS-ROS 500
AS-ROS 2000
Design and rates
Gallons per day (gpd)
500
2000
Feed water source
Softened
Softened
Standard recovery rate
26%
63%
Permeate flow gpm (lpm)
0.35 (1.32)
1.38 (5.22)
Min feed rate (lpm)
1.5 (5.67)
2.5 (9.46)
Connections
Inlet (feed) inch
1" FNPT
1" FNPT
Outlet (permeate) inch
3/8" tube
3/8" tube
Drain (concentrate) inch
3/8" tube
3/8" tube
Electrical, RO
Motor HP (kw)
1/3 (0.24)
3/4 (0.55)
Standard voltage
110V 60Hz 1 PH
110V 60Hz 1 PH
Voltage options

*

220V 60Hz 1PH , 220V 50Hz 1PH
220V 60Hz 1PH , 220V 50Hz 1PH
Voltage amp draw


(110v 60Hz/220V 60Hz/220V 50Hz)

6.6 / 3.2 / 3.7
11 / 5.6 / 6.6
Electrical, boost
Motor HP (kw)
1/2 (3.7)
1/2 (3.7)
Standard voltage
115V 60Hz 1 PH
115V 60Hz 1 PH
Voltage options

*

220V 60Hz 1PH , 220V 50Hz 1PH
220V 60Hz 1PH , 220V 50Hz 1PH
Voltage amp draw


(110v 60Hz/220V 60Hz/220V 50Hz)

7.2 / 3.7 / 4.3
7.2 / 3.7 / 4.3
System dimensions
L x W x H inch (cm)
35 x 30.3/8 x 30 (89 x 77 x 76.2)
35 x 30.3/8 x 49 (89 x 77 x 124)
Weight lb. (kg)
196 (88.9)
241 (109.32)
*Must specify voltage options when ordering. Longer lead times apply.
Operating data
Facts about water quality
Poor water quality raises your operating cost through accelerated wear on components, which results in an increase frequency of maintenance. There are two important factors when monitoring water quality: suspended solids and total dissolved solids.
Suspended solids
Suspended solids refer to small solid particles which remain suspended in water. Removal of these solids is generally achieved through use of filtration found on most waterjets.
TDS (total dissolved solids)
Total dissolved solids (TDS) refers to sub-molecular particles or ions found in solution in water. TDS can include hard elements like iron, silica, and calcium that can precipitate out of the water as scale on the inside of high-pressure plumbing. This scale can break off the inner walls and damage downstream valve components and orifices.
Water
TDS
Treatment
Action
Corrosive
TDS < 50 ppm
See action
Must be brought up to the acceptable range of between 50 and 250 ppm (usually done via mixing)
Good quality
50 ppm < TDS< 150 ppm
Soften only
Contact local specialist
Medium quality
150 ppm < TDS < 250 ppm
Soften or TDS removal
Specialist or RO system
Poor quality
TDS > 250 ppm
Silica > 15 ppm
TDS removal
Soften & RO system
Moderate amounts of TDS are controlled by using water softening. Softeners remove the hard ions that can scale and replace them with soft ions, usually salt, that stay in solution.
High levels of TDS are addressed first by softening and then with reverse osmosis(RO). RO removes the hard ions and lowers the TDS to acceptable levels.