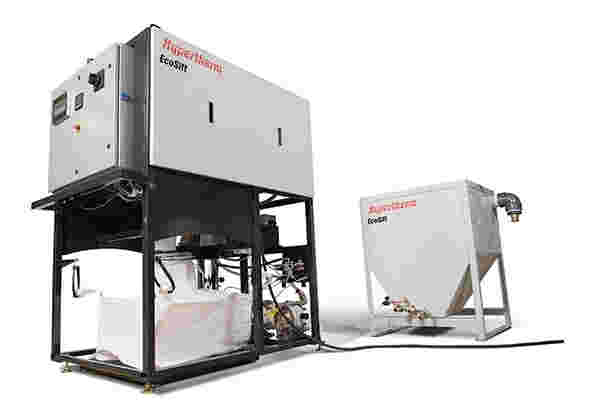 EcoSift abrasive recycling system
Want to reduce your waterjet abrasive costs by up to 60%? Hypertherm's EcoSift™ abrasive recycling system lets you capture, recycle, and reuse spent abrasive.
The idea is simple: Used abrasive is not necessarily used-up abrasive. When cutting at 4,000 bar or below, only a portion of the abrasive is pulverized. Up to 60% reaches the bottom of the tank without significantly changing shape or size; it can be reused without impacting cut quality. Because abrasives typically account for more than half of your waterjet operating costs, the more you cut, the bigger the savings!
The EcoSift abrasive recycling system adds to your bottom line in other ways, too. It reduces the storage, transport, and waste disposal costs. If you like, you can even take in other shops' spent abrasive, or offer them a mutually profitable fee-based recycling program.
System information
Benefits
Cleaning out your waterjet's abrasive tank doesn't have to be a time-consuming, messy chore. Hypertherm's PowerDredge™ abrasive removal system, when paired with the EcoSift system, not only reduces the manual labor associated with abrasive cleanouts; it also reduces costly system downtime. And that means added profitability. The system also makes it easier to recycle used abrasive, and simplifies abrasive transport from waterjet table to disposal.
Contact your Hypertherm representative for additional details.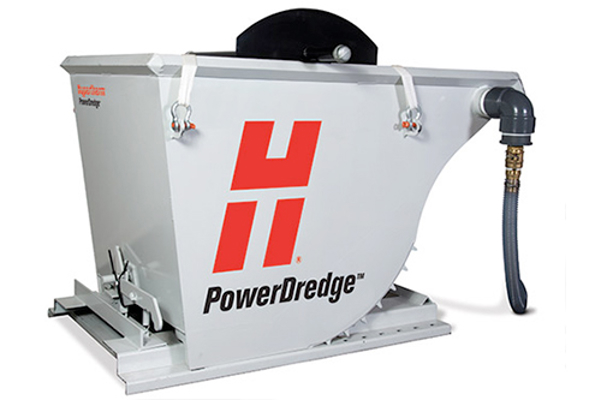 ---
Specifications
Abrasive recycling is not recommended under the following conditions:
Cutting at 6,000 bar or higher
Cutting large amounts of wood, fibers, or material that floats
Cutting large amounts of materials with a melting point below 177°C (most composites can be recycled)
Cutting with plastic bricks as grating or a support structure
If you're not sure whether these issues apply, please contact your Hypertherm Sales Representative.
Resources
EcoSift - Cut your waterjet abrasive costs by up to 60%