Duramax retrofit torches for Powermax600/800/900 and MAX42/43 systems






About
Duramax® retrofit torches can give older Powermax system new life with enhanced performance and productivity. Available for Powermax600/800/900 and MAX42/43 systems, –retrofit torches use the torch connection designed for your system, so installation is simple; both handheld and mechanized styles are available with or without quick disconnect.
Handheld and machine styles available
Proprietary, fiber-reinforced torch handle is 5 times more impact resistant and 20% more heat resistant than T-style torches
SpringStart™ electrode technology eliminates moving parts in the torch for more reliable arc-starting
| | |
| --- | --- |
| Type | Cutting torches and gouging torches |
| Product line | Powermax |
| Applications | |
More consumable life
Conical Flow™ nozzle and Spring electrode give you up to 6 times longer consumable life than standard PAC121, PAC123 and PAC125 torches and consumables – reducing consumables costs by up to 30%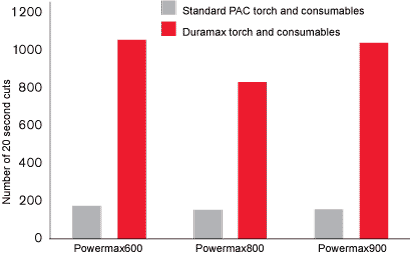 ---
For even greater savings, CopperPlus™ electrodes provide dramatically longer service life than standard consumables when cutting metal 1/2" and under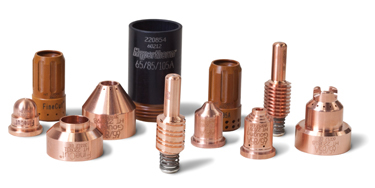 ---
Duramax™ retrofit torches and consumables
Visit our where to buy page to find a potential partner, or contact Hypertherm directly if you need further assistance.
Duramax® MRT mechanized torches with and without quick disconnect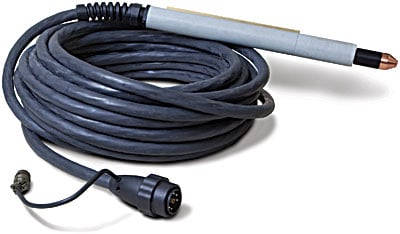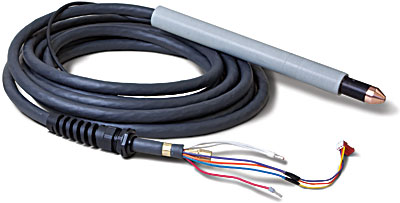 Torch Assemblies
Consumables, operator manual and consumables sticker for your system included
Part number
Description - Systems
228920
MRT machine torch assembly, 7.6 m (25' ) leads - Powermax600, Powermax800, Powermax900, MAX42, MAX43
228921
MRT machine torch assembly, 15.2 m (50') leads - Powermax600, Powermax800, Powermax900, MAX42, MAX43
228922
MRT machine torch assembly, 7.6 m (25' ) leads

*

- Powermax600 CE
*Without quick disconnect
Accessories
Leather torch sheathing - part number: #024548
Duramax HRT hand torches with and without quick disconnect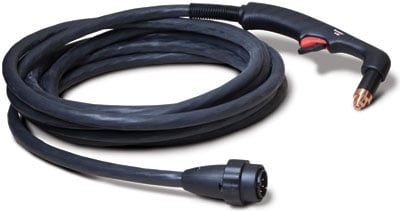 Torch Assemblies
Consumables, operator manual and consumables sticker for your system included
Part number
Description - Systems
228916
HRT hand torch assembly, 7.6 m (25') leads - Powermax600, Powermax800, Powermax900, MAX42, MAX43
228917
HRT hand torch assembly, 15.2 m (50') leads - Powermax600, Powermax800, Powermax900, MAX42, MAX43
228918
HRT hand torch assembly, 7.6 m (25') leads

*

- Powermax600 CE
228919
HRT hand torch assembly, 15.2 m (50') leads

*

- Powermax600 CE
* Without quick disconnect
Accessories
Circle cutting guide - part numbers: deluxe #027668, basic #127102
Leather torch sheathing - part number: #024548
Hand gouging heat shield - part number: #128658