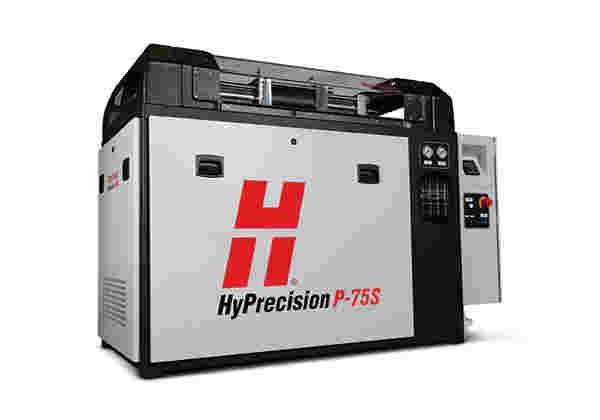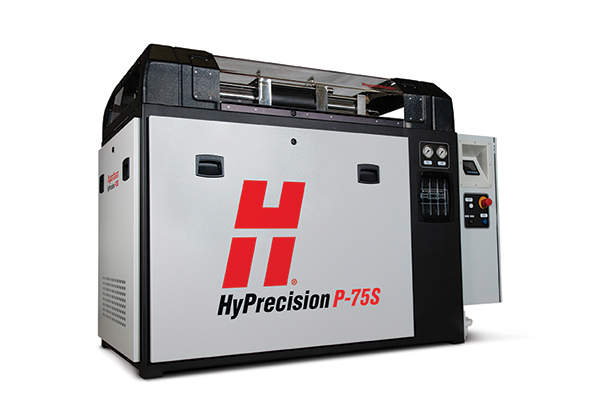 HyPrecision Predictive waterjet pumps (S series)
Hypertherm announced a new name for its HyPrecision™ and Echion™ waterjet pumps. It is rebranding these market leading intensifier-based pumps as DynaMAX™ to unify the naming of its intensifier pumps.
System information
Specifications
View the product brochure under the Resources section for the full specifications.
Pump model number
HyPrecision P-50S
HyPrecision P-60S
HyPrecision P-75S
Hz
50
60
50
60
50
60
GENERAL
Maximum output: gpm (lpm)
1.0 (3.79)
1.2 (4.54)
1.5 (5.68)
Maximum orifice: inch (mm)
0.014 (0.35)
0.016 (0.40)
0.017 (0.43)
PUMP POWER
Motor Power: HP (kW)
50 (37)
60 (44.7)
75 (56)
Voltage
400
208-230
460
400
460
400
460
Full load amps
73.8
138.2-125.8
62.9
90.7
74.4
110.3
89.6
PHYSICAL
Width
40" (1016 mm)
Length
79" (1996 mm)
Height
59" (1509 mm)
Operating weight lbs. (kg)
2,800 (1,300)
3,000 (1,400) Redundant
3,200 (1,450)
3,400 (1,550) Redundant
3,300 (1,500)
3,500 (1,600) Redundant
Resources
HyPrecision Predictive P-15/P-30/P-50/P-50S/P-60S/P-75S waterjet pump - Operator manual (Revision 0)