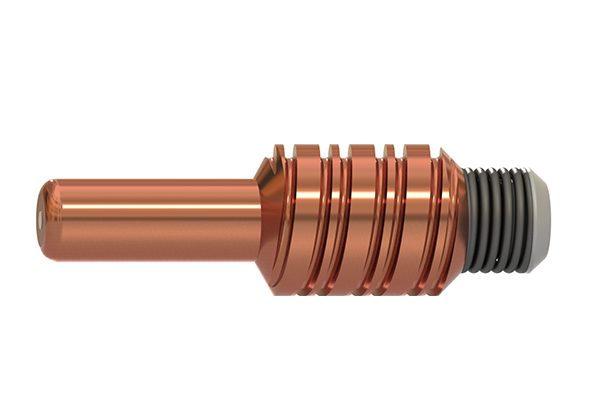 CopperPlus electrode: #220777
Part number: #220777
Operating ranges: 15 A–105 A
Designed for Duramax®, Duramax Lock and Duramax retrofit torches, CopperPlus™ electrodes deliver at least two times the life over standard Duramax electrodes when cutting metal 12.5 mm (1/2") and under. Double the life means you can cut more parts with fewer changeovers – increasing uptime and reducing your operating costs.
Consumable information
Specifications
Consumable life data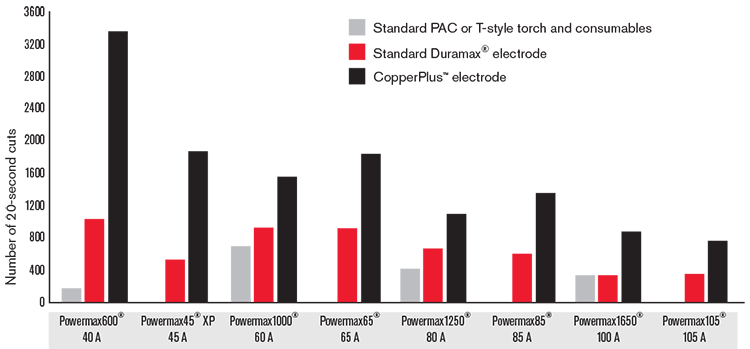 Note: Lab testing shows that CopperPlus will deliver at least 2 times longer consumable life in most cases; consumable life may vary depending on the system, amperage and process.
Buying information
Visit our where to buy page to find a potential partner, or contact Hypertherm directly if you need further assistance.
CopperPlus compatibility
CopperPlus is designed for use with Duramax® and Duramax Lock torches.
Powermax45® XP is sold standard with the Duramax Lock torch series and Powermax65®, Powermax85® and Powermax105® systems are sold standard with Duramax torches.
Duramax retrofit torches are available for Powermax1000, Powermax1250, Powermax1650, Powermax600, Powermax800, Powermax900, MAX42 and MAX43 systems. To upgrade to Duramax torch technology and experience the benefits of CopperPlus, refer to the part numbers below.
Part number
Description
Compatible system(s)
228790
Duramax MRT – Mechanized Retrofit Torch 7.6 m (25') Lead
Powermax1000, Powermax1250, Powermax1650
228791
Duramax MRT – Mechanized Retrofit Torch 15.2 m (50') Lead
228920
Duramax MRT – Mechanized Retrofit Torch 7.6 m (25') Lead
Powermax600, Powermax800, Powermax900, MAX42, MAX43
228921
Duramax MRT – Mechanized Retrofit Torch 15.2 m (50') Lead
228922
Duramax MRT – Mechanized Retrofit Torch 7.6 m (25') Lead

*

Powermax600 CE
Part number
Description
Compatible system(s)
228788
Duramax HRT – Handheld Retrofit Torch 7.6 m (25') Lead
Powermax1000, Powermax1250, Powermax1650
228789
Duramax HRT – Handheld Retrofit Torch 15.2 m (50') Lead
228807
Duramax HRTs – Handheld, Straight Retrofit Torch 7.6 m (25') Lead
228916
Duramax HRT – Handheld Retrofit Torch 7.6 m (25') Lead
Powermax600, Powermax800, Powermax900, MAX42, MAX43
228917
Duramax HRT – Handheld Retrofit Torch 15.2 m (50') Lead
228918
Duramax HRT – Handheld Retrofit Torch 7.6 m (25') Lead

*

Powermax600 CE
228919
Duramax HRT – Handheld Retrofit Torch 15.2 m (50') Lead

*
* Without quick disconnect
Resources
Duramax™, Duramax Hyamp, and Duramax Retrofit Torches