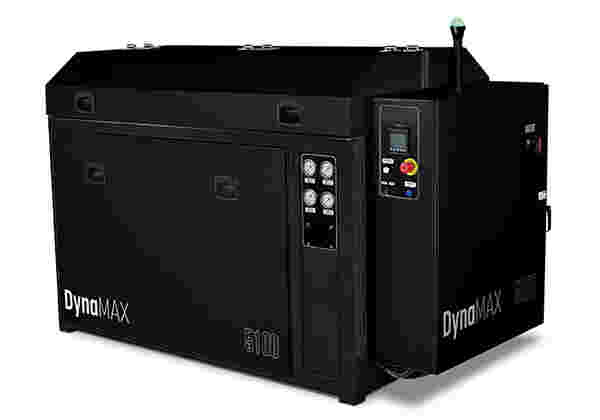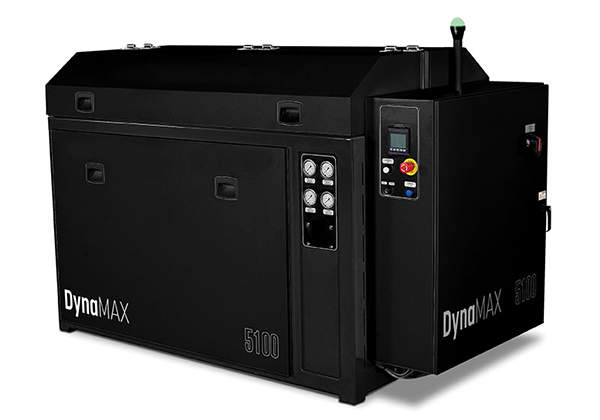 DynaMAX 5100/5150 dual intensifier waterjet pumps
Waterjet technology produces excellent fine-feature cut quality with low edge angularity, no heat-affected zone, a narrow kerf, and virtually dross-free cutting. It also offers the ability to process a variety of materials and a thickness range capability unmatched by other cutting technologies.
Incorporating proprietary Advanced Intensifier Technology™ (AIT), Hypertherm DynaMAX™ 5100/5150 waterjet pumps (HyPrecision D series) are the hardest-working, most cost-effective waterjet pumps in the world. The 5-series dual intensifier pumps are our highest capacity waterjets. They include advanced control and monitoring features, and are engineered to deliver long-life reliability and uncompromised safety for the lowest cost of ownership.
System information
Benefits
Extreme reliability
Built-in inlet water accumulator increases seal life by supplying constant water flow and pressure to the intensifier
Stepped water filtration (10, 1, .45 micron) improves water quality and extends seal life
Innovative piston design minimizes seal wear and improves component life
---
Maximum energy efficiency
Totally enclosed force cooled (TEFC) electrical motor
Tube design
Standard water modulating valve provides cooling water
---
Specifications
DynaMAX 5100
DynaMAX 5150
50 Hz
60 Hz
50 Hz
60 Hz
General
Maximum output flow
2.1 gpm (7.95 lpm)
2.2 gpm (8.33 lpm)
3.0 gpm (11.36 lpm)
3.2 gpm (12.11 lpm)
Maximum orifice
0.020" (0.508 mm)
0.021" (0.533 mm)
0.024" (0.610 mm)
0.025" (0.635 mm)
Continuous output pressure
Adjustable to 60,000 psi (4137 bar)
Intensifier configuration
Dual
Pressure control
Electronic proportional
Bleed-down valve
Hydraulic
Pump power
Motor Power
100hp (74.6 kW)
150hp (111.9 kW)
Voltage
400 V
460 V
400 V
460 V
Full load
138 A
117.5 A
204 A
173.4 A
Main breaker
150 A
225 A
Soft start
True soft start
Physical
Overall width
45" (1143 mm)
55" (1397 mm)
Overall length
86" (2184 mm)
81" (2057 mm)
Overall height
56" (1422 mm)
56" (1422 mm)
Approximate operating weight
4150 lb (1882 kg)
6100 lb (2767 kg)
Options
External air-over-oil cooling
Optional
Optional
Chiller for oil cooling
Optional
Optional
Water isolation valves
Optional
Standard
Operating data
Orifice combinations supported by the DynaMAX 5100/5150 pumps
DynaMAX 5100
| Orifice size | in (mm) |
| --- | --- |
| 1 orifice | 0.020 (0.51) |
| 2 orifices | 0.014 (0.36) |
| 3 orifices | 0.011 (0.28) |
| 4 orifices | 0.010 (0.25) |
| 5 orifices | 0.009 (0.23) |
| 6 orifices | 0.008 (0.20) |
DynaMAX 5150
| Orifice size | in (mm) |
| --- | --- |
| 1 orifice | 0.024 (0.61) |
| 2 orifices | 0.017 (0.43) |
| 3 orifices | 0.014 (0.36) |
| 4 orifices | 0.012 (0.30) |
| 5 orifices | 0.011 (0.28) |
| 6 orifices | 0.010 (0.25) |
Nozzle and Orifice Combinations
| Orifice | Nozzle | Abrasive (lb/min) | Abrasive mesh |
| --- | --- | --- | --- |
| 0.007 | 0.020 | 0.25 | 120 - 220 |
| 0.009 | 0.030 | .4 - .6 | 80 - 120 |
| 0.010 | 0.030 | .5 - .75 | 80 - 120 |
| 0.013 | 0.040 | 1.0 - 1.25 | 60 - 80 |
| 0.014 | 0.040 | 1.1 - 1.35 | 60 - 80 |
| 0.015 | 0.040 | 1.25 - 1.5 | 60 - 80 |
| 0.016 | 0.040 | 1.3 - 1.5 | 60 - 80 |
Typical combinations by pump size
| HP | Qty heads | Orifice/Nozzle |
| --- | --- | --- |
| 100 | 2 | .014/.040 |
| 100 | 4 | .010/.030 |
| 150 | 2 | .017/.045 |
| 150 | 3 | .014/.040 |
| 150 | 6 | .010/.030 |
Power vs. flow for DynaMAX waterjet pumps
Model
Power
Pressure
Max. output flow
Max. orifice size
hp
kW
psi
bar
GPM
L/min
in
mm
100D
100
74
60,000
4137
2.10
7.95
0.020
0.51
150D
150
110
60,000
4137
3.00
11.40
0.024
0.61
Resources
DynaMAX™ 5-series dual intensifier waterjet pumps