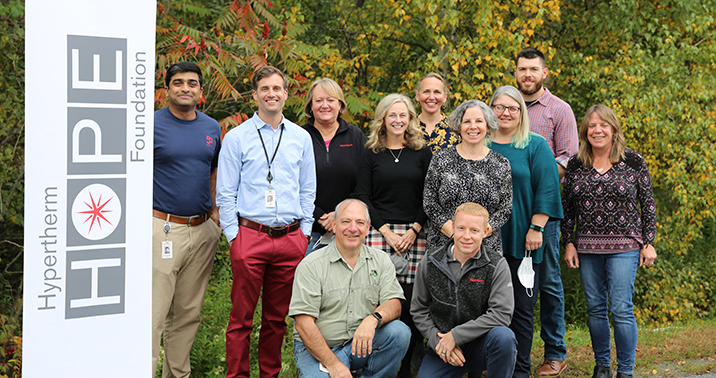 The 2021/22 Winter edition of the Upper Valley's Image magazine features the HOPE Foundation. See how Hypertherm Associates come together to make funding decisions and how we navigated the pandemic to ensure nonprofit partners continued to receive the support they needed.
2021 Annual HOPE Foundation donor appreciation event
- May 25, 2021
We are grateful to all of you for your support of the HOPE Foundation and the work we do in our communities. Though we like to celebrate our appreciation in person, this year we had to hold a virtual event because of the ongoing COVID-19 pandemic. Watch highlights from our virtual celebration. See how nonprofit leaders are guiding their organizations out of the pandemic, the challenges they see ahead, and how they plan to incorporate inclusion, diversity, and equity into their work. In addition, watch as we present the Gary Gaudette Exemplary Service award to Barbara and Dick Couch for their inspiring shared commitment and generosity to the HOPE Foundation.
Learn more about our event presenters and the organizations they represent by following the links below. Many of these incredible organizations are celebrating milestone 40th and 50th anniversaries this year.
Learn more about the HOPE Foundation and join our donor family. Thank you in advance for your support.
HOPE Foundation announces leadership change
- January 27, 2021
The Hypertherm Owners' Philanthropic Endeavors (HOPE) Foundation, a 501(c)(3) public foundation, today announced a change in leadership. After founding and leading the Foundation for ten years, HOPE Foundation President Barbara Couch is handing the reigns to Jenny Levy, Hypertherm's Vice President of People, Community, and Environment.
Watch the gratitude video for Barbara Couch
We stand together
- June 18, 2020
Recent world events weigh heavily on our minds. We stand together in sorrow and solidarity as we mourn and honor the Black lives that have been taken because of systemic racism. As a colleague wrote recently, "we are witnessing the perfect storm of disease, recession and social injustice." We can hope that this perfect storm will lead to change but hope is not enough. We cannot be silent. We cannot sit on the sidelines. We need commitment and action to ensure a more just and equitable society.
The Hypertherm HOPE Foundation commits to be a change agent. A statement of our beliefs and commitment is here. We will be coming together in the days and weeks ahead to breathe life into these words and put an action plan in place. We will hold ourselves accountable to this plan, measure and communicate results.
Our belief statement:
We believe that confronting systemic racism starts with honest self-reflection. Change starts with each of us personally and all of us collectively.
As a Foundation, we recognize the need to remain steadfast in our commitment to creating more equitable communities where we focus our grantmaking. We believe Black lives matter.
We believe that equity exists when all people have access to the opportunities and resources needed to reach their full potential and when everyone feels empowered to be their full authentic selves.
We believe far too many of our neighbors face obstacles to those things based solely on their race, geographic place, background, and/or identity, while others receive unearned societal advantages and privilege.
Our commitment:
We commit to learning about the inequities that surround us. We commit to listening with empathy to learn from people across our communities, especially those who have been marginalized, and from our nonprofit partners who are closest to this work.
We will use what we learn to inform our grantmaking, volunteerism, communications, and practices.
We recognize that we come from a place of advantage as a philanthropic organization and we will approach our work with humility, compassion, and an openness to learn and change.
We cannot change the world, but we can change the part that is within our reach.
The Hypertherm HOPE Foundation
Message regarding COVID
- March 18,2020
Dear Nonprofit Friends,
I hope this message finds you well during these most uncertain times. Amid the daily news and devastating headlines around COVID-19, I wanted to share with you a message of hope.
Despite these uncertain times, our work continues. The Hypertherm HOPE Foundation is focused on doing what we have always done—helping our community nonprofit partners have a lasting and important impact on the communities we call home. To that end, I wanted to let you know that we consider our work now more important than ever. We are here for you. We understand how these uncertain times can impact your good work and thus, the wellbeing of our communities. We are currently monitoring the impact the spread of COVID-19 is having on you and the communities you serve. We have heard from many of you about the proactive steps you are taking to adjust programming in ways that put the health of those you serve first. We are most appreciative of your ongoing extraordinary work. If we have supported an event or program of yours that has been postponed or cancelled, we assure you, we are not seeking the return of any funds. Rather, we want to know how we can be more helpful. We stand with you.
We wish you good health and calm days ahead.
Sincerely,
Barbara J. Couch
President, Hypertherm HOPE Foundation