Training at Hypertherm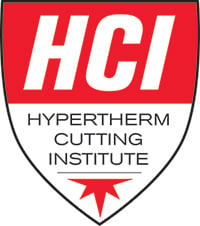 Our live training workshops are designed to increase your knowledge of the various cutting technologies – plasma, laser, and waterjet – and give you the tools you need to better reach your business goals.
The Hypertherm Cutting Institute (HCI) educational series features two days of live training. Participants can sign up for one day of training, or both.
Advanced productivity training
Jim Colt and the rest of the team show you how to be more productive and profitable. Receive tips to extend the life of your consumables, and learn the secret to substantially reducing your material costs.
ProNest end user training workshop
This two-day workshop is an instructor led training recommended for CAD/CAM programming professionals, machine operators, shop floor management, or others who have ProNest® subscriptions and want to gain a deeper understanding of its features and functionality. The goal of these two days is to help you achieve better cut quality, productivity, and material utilization through deepening your knowledge and skillset while utilizing ProNest. All material and discussions are based on the current ProNest (PN2017) version.
Focused areas:
Strengthening baseline knowledge in ProNest through review of its modules and navigation
Personalized round-robin format focused on advanced applications or other process specific programming techniques (including topics like bevel applications, plate inventory synchronization, ERP/MRP integration, and more)
Both days may utilize some live cutting in our cutting lab to deepen the connection between classroom learning and real part outputs
Participants are required to have a valid ProNest subscription and to bring a laptop to use during the class and workshops. It is highly recommended that users have attended the online ProNest training webinar prior to attendance. This is not an introductory course. Workshop attendance is limited to 40.
Workshops will be offered on these dates in 2016 with the outlined pricing:
Workshop: CANCELLED - Check back in 2017 for a rescheduled date
Cost: $499 per person for two days (current subscription), $999 per person for non-current subscription end users