Preventive maintenance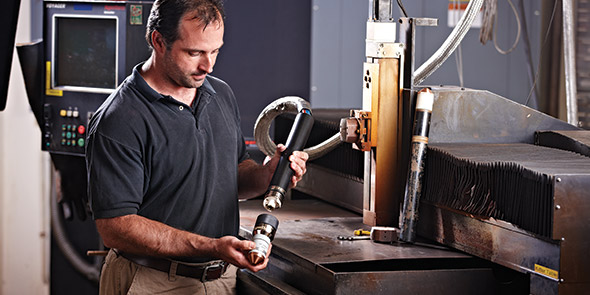 Like any machine, your Hypertherm cutting system requires proper care and maintenance to operate at peak efficiency. Hypertherm Preventive Maintenance is a comprehensive package that ensures maximum productivity, while minimizing the operating costs of your cutting system.
Hypertherm Preventive Maintenance includes:
A periodic maintenance and cleaning plan
A schedule of replacement for common wear items
Pre-bundled parts kits of common wear items
A full system inspection
Training on the recommended periodic maintenance for your system
Maintenance schedules based on application specific application and environmental conditions
Part replacement schedules based on your machine configuration and usage
Hypertherm Preventive Maintenance reduces the likelihood of emergency repairs and unplanned downtime. It's an ongoing, proactive approach that not only extends the life of consumables, but also extends the life of your entire cutting machine.
Hypertherm offers a number of other helpful resources to keep your system running at its best:
Preventive maintenance guides – Detailed instructions on how to inspect, service and replace common wear items, plus a comprehensive part replacement schedule
Preventive maintenance kits – Available for all automated cutting systems, easy-to-order kits are more cost effective than purchasing the contents separately
Periodic checklists – Easy-to-use spreadsheets provide detailed information on which specific components, by part number, to change based on actual usage (arc time) of your system
Preventive maintenance resources are available for the following systems: