At Hypertherm, we aren't just employees; we're owners. Because we are one-hundred percent employee owned, customers, not investors, are our top priority. So we make sure every product is built to the highest quality and our service is second to none. In addition, our no-layoff policy lets Associates stay focused on their jobs and ensures that we don't lose valuable knowledge, experience, and skills.
What's so great about an ESOP company?
Ownership creates an opportunity for all Associates to share in the wealth they help create. There is a high correlation between the financial success of the company, the stock price of the company, and Associate ESOP (HSOP/GSVP) balances over time.
Ownership often leads to increased productivity due to greater Associate participation in process improvements. Hypertherm's successful Continuous Improvement Activities (CIA) program is a great example.
Owners better understand the relationship between personal performance and company results.
Owners are actively involved in the business as "players," not just watching from the sidelines.
How does Associate ownership work?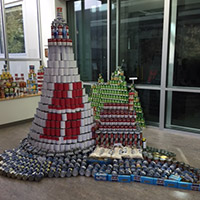 The Hypertherm Stock Ownership Plan (HSOP) and Global Stock Value Program (GSVP) allocate Hypertherm stock or GSVP units over time and without charge to the qualified participants. Both plans are retirement savings benefits that help Hypertherm attract and retain highly qualified Associates. Participants in the plans are vested after working three years. The Ownership Communications Team – representing a cross section of Hypertherm roles, locations and shifts – fosters the Associate ownership culture at Hypertherm. It promotes the Hypertherm Stock Ownership Plan (HSOP) and the Global Stock Value Program (GSVP) through education, communication and celebration. HSOP and GSVP training sessions range from new hire orientations and basic refreshers to stock certificate training and targeted sessions for participants nearing retirement. Throughout the year, the team arranges new participant luncheons and delivers gifts for employment anniversaries, and also organizes special events like food drives and vesting celebrations.
Celebrating Associate ownership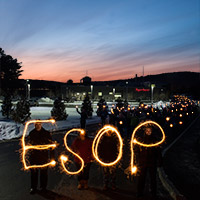 The new Hypertherm stock value is announced at a spring Company meeting annually. Evan Smith, Chief Executive Officer of Hypertherm, explains how the value is determined based on the analysis of an independent and external appraisal company. During National Ownership Month each year, the Associates hold a poster slogan contest, participate in trainings and recognition events, support the local community through a food drive, and enjoy a day of celebration with refreshments.
Press releases and awards
New England ESOP Association Chapter Awards
2016 Employee Owner of the Year Award – Jane Moss
2015 Group Excellence Award
2010 Group Excellence Award
2009 Employee Owner of the Year – Heather Roberts
National Center of Employee Ownership (NCEO)
2014 Innovations in Employee Ownership Award
The ESOP Association - Annual Awards for Communication Excellence (AACE)
2008 Total Communications Program, 501 – 1000 Employees
2006 Total Communications Program, 501 – 1000 Employees
The ESOP Association
2019 - Employee Owned Company of the Year
2010 - Hypertherm's CFO Elected to Employee Ownership Foundation Executive Committee
2009 - Hypertherm's CFO Elected to The ESOP Association's Board of Directors